We're Saving a Seat for You
Our Sunday services are designed with one idea in mind…..to draw you closer to God. Each week, you'll experience Bible-based teaching, engaging worship, and a welcoming atmosphere.
Real Life has a "come as you are" atmosphere. You will see some dressed up; some dressed casual. We have no expectations for attire. Real Life is not about what you look like or what you wear. Dress in what is comfortable for you!
In case you were wondering, we don't care about your past, how many tattoos you have or who you voted for in the last election. We are a church filled with broken, imperfect people with every kind of story you can imagine, and we are saving a seat for you! Come and meet our growing community and see what Jesus is doing here in Hollister/Branson area.
#SeeUSunday #RealLifeHollister
JOIN US FOR IN-PERSON WORSHIP
SUNDAYS // 10:30AM & Discipleship at 6:30PM
CONNECT HOUR -Small Group Bible Study // 9:15AM
Mid-Week Bible Study // Wednesday // 6:30PM
Write us a note. Follow us on social media. We can't wait to meet you!

Dear Real Life Church-Hollister family and friends,
Sunday, May 15 2022, Guidepost Solutions released the findings of a roughly seven-month investigation into the Southern Baptist Convention's Executive Committee's response to allegations of sexual abuse instances involving pastors or church members in local SBC churches from June 2001-June 2021. It is painful and frustrating to read. It is painful to read because those who represent the SBC collectively while our convention is not in session failed to love well those who were harmed. Additionally, it is painful to read because those who were harmed had their pain often exacerbated by our leadership. It is frustrating because victims were ignored. Some victims were shunned in what appears to be an attempt to avoid legal risk or avoid internal conflict. Guidepost's report reveals, how either indirectly or directly, our denomination's Executive Committee, therefore our denomination harmed survivors who came forward. While most of us are not directly responsible, every SBC church and member should grieve what has occurred.
As one might expect, it did not take the world long to notice and begin reporting on the truly disturbing findings of this investigation. Maybe you have seen this news, maybe you haven't. Maybe it caught you off-guard, maybe it didn't. Many will report facts, others will report with a bias or agenda. This I am certain. Regardless, I am still working my way through the 288-page report. I feel compelled as your lead pastor to bring you two things: First a response and second a simple request.
I am not the Holy Spirit, there is much to try to comprehend. Additionally, I cannot read your mind, but I want to make sure that you clearly understand what this report is not and what this report is. The Guidepost report is not a hit piece from the left-wing media as an attack against us. It is not a liberal or atheist accusation. This is not another exercise of religious persecution against one of the largest and most theologically conservative Christian denominations in our nation. Please understand this clearly. Guidepost's report on their findings is part of an internally initiated, SBC-funded, independent investigation limited in its scope specifically to the actions of the Executive Committee's (EC) response to the presence of sexual abuse within our denomination over the past twenty years.
Last year during the annual convention in Nashville, TN our denomination faced a substantial moment. After the release of a series of articles by the Houston Chronicle in 2019 exposing the occurrence of sexual abuse by ministers in SBC churches in Texas, the outcry within the survivor community across the country claiming that they had been pleading with the Executive Committee for help for years to no avail, the release of two letters written by Dr. Russell Moore (former president of the SBC's Ethics and Religious Liberty Commission) in which he vented his frustrations regarding members of the EC who had opposed his efforts to address this problem within the denomination, and many other events caused the messengers to the 2021 Convention to take action.
The Executive Committee's attempted to investigate itself…this was rejected. We, through the representation of messengers present approved a motion for the newly elected SBC president to "appoint a task force" to initiate and oversee a third-party investigation into "any allegations of abuse, mishandling of abuse, mistreatment of victims, a pattern of intimidation of victims or advocates, and resistance to sexual abuse reform initiatives."
This motion was overwhelmingly approved by messengers sending the very clear message that the SBC will no longer be a place for sexual predators and/or abusers to hide if that had occurred. It communicated clearly that we are willing to expose the rot of sin by cover up even in the highest echelons of our denomination for the glory of the Lord and the good of his people.
There is no question in my mind that sexual predators have been present in our churches and have victimized individuals throughout the years because this is true for every denomination. It is especially true for churches with no policies or procedures in place to prevent such behavior. What our messengers were most concerned about was the mounting evidence that those in the highest positions of power in our denomination were making efforts to preserve the denomination at the expense of these victims as well as our Southern Baptist character. This report has confirmed those concerns and my heart is broken for every victim of abuse in our churches whose cries for help were met with silence and a spirit of self-preservation instead of compassion, grace, and a clear sense of right and wrong! This was such a mistake by those in leadership, it is difficult to describe! Personally, I am sickened by the actions of any pastor, leader or staff member who have preyed upon God's sheep and then been allowed to pass quietly into the night or onto a bigger platform from which to perpetuate their abuse. There is no excuse for this, yet it has clearly occurred. There is no condemnation strong enough for what has taken place within our denomination…none!
I am also hopeful as I write this. I am hopeful because in this, through the will of the messengers, through self-initiated actions, the Lord has shown his faithfulness to us. No one should believe it was an accident or a coincidence that events accumulated in the way they did. No one should believe it was by accident or coincidence that the victims and advocates endured for over a decade, that the motion was brought forward, or that the investigating organization has brought this report before us. God is faithful to expose sin. He is sovereign over all things and because of his deep love for his church, he will not allow sin to continue to grow within his Bride.
Instead, he will be and has proven himself faithful to shine the light of his holiness into the depths of our darkness and dispense of our evil at the root. Though it might not feel like it now, this is an act of God's love and grace to discipline those whom he loves. Embrace it and grow in it.
For the moment all discipline seems painful rather than pleasant, but later it yields the peaceful fruit of righteousness to those who have been trained by it. Hebrews 12:11
Over the next few weeks, our convention will seek to take steps to correct this action, it has already begun with the establishment of hotlines and reporting procedures. I am confident, we will deal with past actions as best we can, and I am confident we will diligently work to protect the vulnerable who are entrusted to our churches' care. Polity and feasibility will no doubt be a part of discussions, but safety of current and potential victims, integrity, and transparency must be the outcome of our work.
If we are honest, the SBC has a very tainted past. Blatant racism, latent discrimination, controversy, and sinful activity have been part of our history. They are a part of every organization of humanity. The latest actions could lead people to disengage from the SBC. I understand. We have repented and grown and will again. Personally, I choose reform from within; I will not disengage!
So, what is there to do in response? What is my request to you? Please pray and continue to pray.
Please pray for our current executive committee and for our convention as we lean into this difficult issue.
Pray for all the victims of sexual abuse both within our denomination and those outside as well.
Pray for these men and women who were hurt further by the actions and more by the inaction of those they sought out for help.
Pray for true repentance from those who have committed the abuse and those within leadership who have perpetuated abuse by their actions and inactions.
Pray for Real Life Church-Hollister to be a place where men and women who have been victimized by abusers find the compassion of Christ awaiting them through our love and care.
Pray for everyone who will gather in Anaheim, CA as messengers to the 2022 convention and who will have the responsibility to take the next steps in responding to the recommendations provided by this investigative body.
This report is not the end. It's the beginning! Be encouraged.
We have a lot to do to right past wrongs and build a better future for the glory of the Lord and the good of those around us.
God is always faithful, and his plans are bigger than Real Life Hollister, our denomination, Missouri or this nation. Our hope is not in buildings, budgets, teams, committees, and definitely not in celebrity pastors and leaders. So, I pray that you will be encouraged…our God is faithful, our God is at work, and our God is reminding us to trust in Jesus and Jesus alone!
Peace be with you,
-Pastor Jody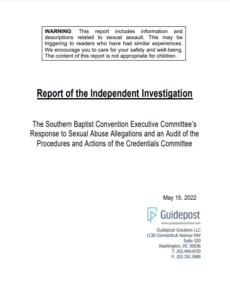 By clicking on the picture above you will be directed to the Guidepost Solutions Report…